Surveillance
Global IFSEC
The government has dropped plans to transfer several key functions from the role of biometrics and surveillance camera commissioner to the ICO data regulator. Professor Fraser Sampson, the current commissioner, welcomed the move, while warning it was "just a job half done".
In particular, Sampson pointed to the sensible decision not to entrust oversight of police use of DNA and fingerprints to the Office of the Information Commissioner (ICO).
The plan to shift oversight of police use of biometrics emerged late last year in a major government consultation titled: Data: A New Direction. Several respondents, including Professor Sampson, told the government that for various reasons it was a bad idea.
Today, in his formal response to this consultationthe government said: "In light of this feedback and broader engagement, including with the current Biometrics and CCTV Commissioner and law enforcement partners, the government. ..decided not to transfer these functions to the ICO…"
Professor Sampson said: 'It's a sensible decision, as far as it goes. But the government's response needs details on what it plans to do now with these particularly important functions. I won't be able to make meaningful observations until they have something solid and sensible to say about what comes next in terms of strong, principled, independent oversight in these important areas.
"We now have the opportunity to deliver something really good, not only in relation to DNA and fingerprinting, but also in relation to other existing and emerging biometric technologies such as live facial recognition.
"We're talking about technologies that I and many others believe are going to play an increasingly important role in all of our lives. We need a way to keep pace with the rapid changes in these areas in order to provide the public with the assurance they need that this technology will be used lawfully, responsibly and according to a clear and clear set of principles that will ensure the circumstances of their use are dictated by what society considers acceptable and not just by what technology makes possible.
The Government's response indicates that it will consider whether the existing Investigative Powers Commissioner can instead take on some of the functions of the Biometrics Commissioner.
Professor Sampson said: 'As Biometrics Commissioner, I independently oversee the use of investigative powers involving biometric material, ensuring that it is used according to law and in the public interest. This description is almost identical to that of the commissioner with investigative powers, and it makes much more sense for any transfer to go in that direction. Although who would make the more than 100 decisions a month on national security determinations is still unclear.
"If Parliament decides to move the functions, the next necessary step in simplification will be to have a definition of biometrics. Currently, "biometrics" in policing only covers traditional fingerprints and DNA, while schools have a broader but less regulated definition. "Next-generation biometrics" such as facial recognition, iris, vascular patterns, hormones and gait are as much "biometrics" as our fingerprints and are – as we heard at the event in London this week – a matter of growing public concern.
"Furthermore, nearly all capabilities in this area are privately owned, requiring our private sector technology partners to demonstrate that they can be trusted with their security features and ethical values. Not only would this simplify matters, but it would also bring the UK in line with many other countries with which we share biometric data for law enforcement and national security purposes.
The Government's response to the consultation also said it would seek to eliminate "duplication" between the ICO aspect and the CCTV Commissioner of Professor Sampson's dual role.
Learn about the latest developments in the rapidly evolving video surveillance industry, directly from the people at its heart. We surveyed over 400 professionals working in the field to bring you the 2021 CCTV Report. Answers come from installers and integrators to consultants and security managers, as we explore the latest industry trends, including the video analysis; the use of surveillance outside of security operations; cloud-based storage solutions; the integration; the impact of COVID-19; market outlook and more!
Download for FREE to experience the industry's best information on the latest innovations in network cameras and CCTV systems.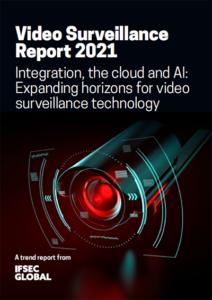 Related Topics